Read Wotakoi Story Online, Don't miss most the amazing Story Events and Read Love Is Hard For Otaku Manga
The 11 Events Wotakoi Story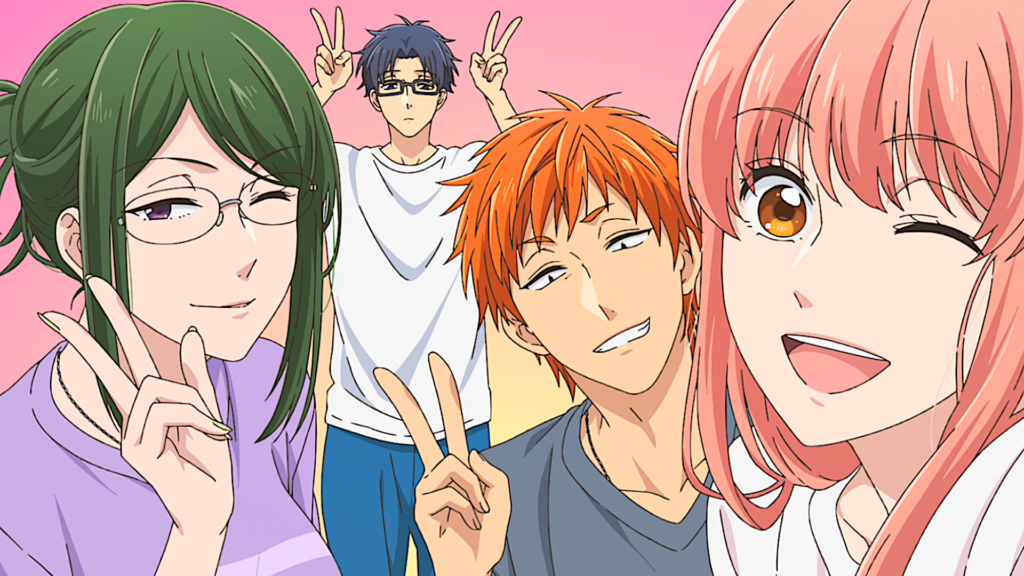 Wotakoi Story 01 – Reunion of Narumi and Hirotaka. And…
Narumi Momose (hidden fujoshi) decided to change jobs because of a broken heart. At her new job, she happens to meet her former childhood friend Hirotaka Nito (severe Gewota). It seems that Hirotaka is saying something to Narumi, who calls him a otaku friend.
Wotakoi Story 02-
Lover? I started
Two people who became lovers from otaku friends.
Narumi, who somehow felt awkward, avoids Hirotaka.
Hanako Koyanagi (cosplayer) and Taro Kabakura (light wota), the company's seniors who saw the two of them, give advice, but …?
Wotakoi Story 03 –
Sale event and game party
Narumi, who was invited to Hirotaka's house at the end of work, suddenly became suspicious of his behavior.
Narumi talks about his childhood on his way home, but he says he can't remember how he got along.
Hirotaka who heard that was lonely somewhere …?
Wotakoi Story 04 –
Is Mature Love as Difficult?
One day after work, Hanako and Kabakura have a fight at a drinking party.
Hanako is worried that she may be dating because it's easy for otakus.
She sees such a situation, and she thinks about herself in Narumi.
Wotakoi Story 05 –
Naoya Appearance and Game Association Part II
Hanako and Kabakura see Narumi having a close conversation with a Stabo clerk.
In fact, the good young man was Hirotaka's younger brother, Naoya Nito.
After that, everyone will go to Hirotaka's house to play …?
Wotakoi Story 06 –
Melancholy Christmas
Christmas is approaching while I'm busy towards the end of the year.
Hanako, who says, "Last Christmas was the worst in history," doesn't seem to have any particular expectations.
On the other hand, Kabakura is doing a crunchy job …?
Wotakoi Story 07 –
Netoge and Each Night
Everyone started to get together in the game one after another as we all got together.
Rare enemies suddenly appear in the place where the rest is only waiting for Hirotaka!
A savior (?) Appears in front of Narumi, Hanako, and Kabakura in a pinch due to lack of strength.
Wotakoi Story 08 –
Thunder that I'm not good at and the age I'm worried about
Hirotaka asks Hanako and Kabakura what they are doing when they are together.
Kabakura says, "It's the same as you guys," but she seems to feel something different.
On the way home that day, make a proposal in Narumi …?
Wotakoi Story 09 –
Let's go on a date!
Two people who went out on a date at the invitation of Hirotaka.
Hirotaka says, "I want you to be a little more nervous than usual" for Narumi who can't switch to non-Wota mode.
In this way, the otaku seal binding date started …?
Wotakoi Story 10 –
Hikari-kun Appearance and Netogeri Revenge
During the part-time job, Naoya sees a customer who is silently concentrating on the game.
If you look closely, the game was a netoge you played before.
When Naoya, who was curious, called out to the customer, he apologized vigorously and left …?
Wotakoi Story 11 –
It's difficult to fall in love with Otaku
Narumi heading to Hirotaka's house on the last day of the holidays.
While the delusion grows about how Hirotaka reacts to the visit without appointment, he
arrives at the house and sounds the chime, but there is no reaction …?